Rubber mats come in many different shapes and serve a variety of functions. Some products are great for use as outdoor matting because the rubber material used in their composition is suitable for exposure to UV and other elements. Other mats are more suited for use in indoor settings, a great example being the rubber-backed carpet mats that are popular for use at indoor entryways. Some products are more utilitarian in nature, where the focus is on durability and longer life. At the same time, other products are geared towards having a visual appeal. Whatever your needs, there is a product for you. The recommendations below are made by the specialists at Rubber-Cal, a southern California based distributor of rubber mats and flooring products.
Corrugated Wide Rib:  Corrugated Wide Rib runner is ideal for outdoor or indoor walkways because it is made from 100% SBR, giving it excellent endurance against UV and moisture.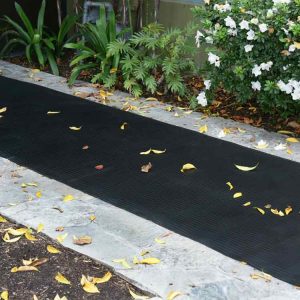 Utilizing a classic surface pattern of large spaced ribs running along its length, the Wide Rib runner provides durability and traction all in one. Available in 3ft or 4ft wide rolls, this mat comes in custom length up to a maximum of 50 ft, and starts at $6.95 per foot or $282.00 for a full roll. These rubber mats are great for any wet walkway or area you want to define as a walkway. Whether at a golf course, hotel, or even an animal stall, the Corrugated Wide Rib runner is the perfect anti-slip mat for the job. A similar product to recommend is the Corrugated Composite Rib runner.
Diamond-Plate:  With safety in mind, Diamond-Plate Rubber Flooring was made with 100% SBR and an offset diamond pattern to decrease slipping by increasing traction. Double-sided tape can be used to install this product but the increase traction plus the weight of the material helps keep it in place if you are looking for a more temporary option. Available in 4ft wide rolls of custom length upon request up to a maximum of 50 ft, Diamond-Plate is easy to clean due to its resistance to moisture and prevents the growth of mold and mildew on its body. This tough product works great in many industrial applications from warehouse flooring to anti-slip assembly line flooring.
Carpet Mat – Nottingham:  The Nottingham Carpet Mats are ideal for use in many locations within a residential space—after all, its purpose is to remove dirt and residual moisture from the shoes of those walking into any indoor area. Its back is made of rubber (natural and reclaimed), so it has a lot of traction and will stay in place on any surface: cement, brick, tile and more. The top of the doormat has a raised pattern of squares that serve to dislodge dirt and debris from the sole of shoes, while the fabric consisting of polypropylene filaments helps to remove any excess moisture remaining on the shoes of incoming traffic.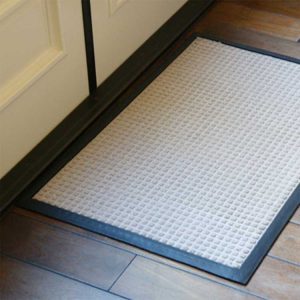 This makes it a great option for any sort of entryway covered by an awning, or doors adjacent to covered patios. It's also a great choice for apartment buildings that have central hallways, if the hallway doors open to the exterior. Nottingham Carpet Mats are a similarly good option for the inside part of entryways. The mat has a raised outer border (as opposed to a tapered edge), which means that any dirt captured by the mat will stay there, and can't be dragged further into the home interior. Since Nottingham Carpet Mats come in 5 different colors, they're easy to match to any interior design a home might have. Similarly, they come in several sizes, which means that there's always a good option to ensure that the mat matches the width of the doorway.
Armor-Lock (Fitness) Tiles:  Armor Lock (Fitness) interlocking tiles are an ideal flooring option for various types of small, at-home gyms. While the "normal" version of Armor Lock tiles are also a good choice for an at-home gym, the Fitness variant is designed with small gyms areas in mind. Their sides are 4 inches smaller on each side than the other type of Armor Lock, but equally thick, which makes them ideally suited for repurposing a small area of a room into a home gym area.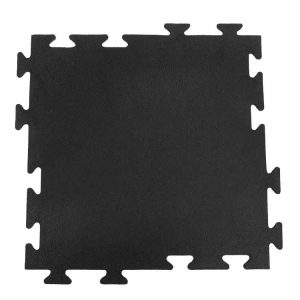 They don't need an adhesive to stay in place, but they're light enough to be highly modular, which means that they can be easily relocated if someone decides to change where they practice their home workout routine. The tiles are also a good choice as an equipment mat for a home gym. If someone wants to give their subflooring a little extra protection the weight of dumbbells, or from the vibration of a treadmill, Stairmaster, or that Bowflex machine you bought during a midlife crisis—Armor Lock (Fitness) provides ample protection from impact and vibration with a 3/8" thickness.
BubbleTop Mats:  One of the best anti-fatigue rubber mats is definitely the Bubble-Top Anti-Fatigue Mat. This rubber mat is designed to be comfortable for people to stand on especially when they have to stand in the same area for a long period of time. These rubber mats have a pronounced surface texture that looks like little bubbles popping out. These bubbles are hollow underneath so they can hold air pockets. The air pockets and these bubbles are what make this mat so great when it comes to providing comfort. They help cushion your weight and spread it out so your body doesn't get so tired as quickly as it would on a hard surface like concrete.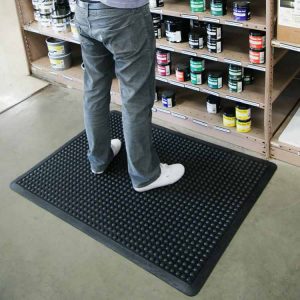 I would choose this mat over any other anti-fatigue mat like the comfort cloud or soft cloud, because it's design is appealing and it's not made of a sponge material which can break apart a lot easier and sooner. The Bubble-Top Anti-Fatigue mats also have colored beveled edges that reduce the chances of anyone trip over the edges of these mats. The color options can help you fit this into your current design of a room or area so you don't have to change anything. These mats can come in 2 different sizes as well to fit your needs from a 3ft x 2ft piece or a 3ft x 4ft mat that Range in price from as low as $33 to $99 at the highest. These mats are 5/8th of an inch thick so they aren't those really thin mats that you sometimes see at groceries or super market stores behind the cash register. The Bubble-Top mat can help stores keep their employees happy and comfortable, which will in turn improve their productivity and happiness in the work place. This could also be said for someone who works from home or has to stand in the same place for a long period of time.