Expert Picks: Industrial Flooring
Industrial areas such as warehouses, workshops, and factories need good flooring just like any other residential or commercial area. Sometimes, it is especially important in their case because of all the heavy weights and high foot traffic involved. The flooring experts at Rubber-Cal deal with industrial clients on a regular basis, so they have some experience in providing flooring for these settings.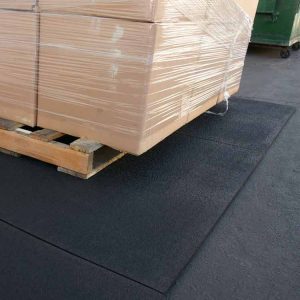 David Benavides:
My favorite Industrial flooring is the Diamond-Plate rubber flooring. This flooring has that diamond plate design on top that makes it look like it belongs in an industrial setting. This product is not only designed to look good, but it also functions well in these types of settings. This flooring option is made from SBR rubber material. This type of rubber is known for its physical durability, so it can withstand more punishment than other products like a tile or wood surface. This 4ft wide roll can come up to 50ft if needed or custom lengths between 5ft to 50ft. The design on the surface not only looks cool but also has a second function, which is to provide traction to people walking over it. The design and the rubber help make this an anti-slip flooring product by giving the user extra traction even when wet. For instillation of this product all that is really needed is double sided tape around the edges and you will be good to go. Overall this product works great in an industrial setting, because it can handle the high foot traffic, provides an anti-slip surface, has a cool design, and can be easy to install and made to fit using the custom lengths.
Brian Holst:
I think it's hard to find a better choice for industrial flooring than the Tuff-N-Lastic rubber flooring rolls—they're likely to meet any industrial flooring need, including affordability. Many industrial spaces are somewhat modular in nature: shelving, equipment, and the like can be moved around from time to time. In spite of its toughness (hence the name), Tuff-N-Lastic is a lightweight product, easily rolled up and relocated when needed (like most rubber flooring, of course, it can be kept in place with double-sided tape). Tuff-N-Lastic flooring mats are made from reclaimed rubber, as opposed to recycled rubber, so it's made of a solid material that's still eco-friendly. This flooring provides a two-way protection, safeguarding the floor underneath, but also helping to protect any machinery used on top. The top of Tuff-N-Lastic has a pebble-shaped pattern on its top, which provides traction to people and equipment alike, and it will also help to prevent injury from slipping, should it become wet. It can handle any industrial situation with aplomb!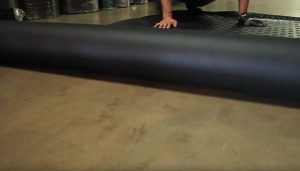 Stuart Salling:
When it comes to industrial flooring you think safety! Non-slip surfaces are very important to keeping workers safe and productive which is why I recommend Diamond-Plate rubber matting. This flooring product is available in black and comes in 4 feet wide rolls with custom lengths upon request with a maximum length of 50 feet. Made from 100% SBR, Diamond-Plate rubber flooring is perfect for increasing traction as is capable of handling even the toughest wear conditions. Installation of this product can be done using a polyurethane glue or simple double-sided tape to adhere the material firmly to the ground. To clean the Diamond-Plate all you need is to rinse the surface with water and any common detergent because rubber is resistant to mold and mildew. Starting at $375.00 for a full roll of 50 feet this product is perfect for all sorts of industrial applications.