The Best Rubber Comfort Mats
Humans like to be comfortable. It is practically a natural law; the unspoken 11th commandment, if you will. Comfort itself is a fairly broad term, but for our purposes we are strictly referring to physical comfort that is brought about by rubber comfort mats.
These types of mats are designed specifically for providing enhanced comfort from the feet up. They are designed to relieve the physical tension that builds up in the joints of your feet, knees, and lower back after a prolonged period of standing. The technical term for this is "anti-fatigue". Rubber is a softer and more forgiving material for use as matting and it can be designed in a way to improve your overall level of comfort while standing on them. These mats, known as anti-fatigue mats, help relive that unwanted tension. RubberCal has several rubber comfort mats available in its inventory, which is why we reached out to some of their specialists to get their recommendations on the best types of comfort mats currently available.
Foot Rest Anti-Fatigue Mats:
Our Foot Rest anti-fatigue mats have an industrial appearance, but don't let that fool you, for they have all kinds of uses in a residential space. These mats come in two forms, both: a stand-alone mat, as well as an interlocking variety that can be used to create an elongated mat or runner, both of which have a size of 28 in by 31 in.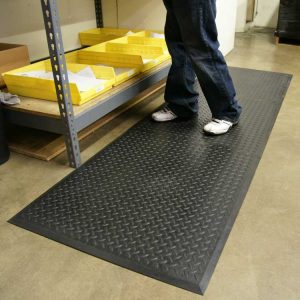 At ½" in thickness, Foot Rest mats have a honeycombed pattern underneath, and the air pockets of this design provide tremendous cushion for those standing upon it, giving the products its titular anti-fatigue quality. With a diamond-plate pattern on the top, and a material consisting of a mixture of SBR, recycled rubber and reclaimed rubber, it also has provides traction to provide anti-slip protection. In homes, Foot Rest mats are great anti-fatigue mats to place in front of garage workbenches. They're also equally great to place in laundry rooms in front of washers and dryers, where people can spend time standing and sorting clothes. In apartment complexes, where there are often subterranean parking garages, the interlocking variety of Foot Rest mats make for a comfortable and safe runner for the walkway or hallway that leads to the stairs and/or elevators that lead to the upper levels of the building.
Bubble-Top Anti-Fatigue Mats:
One of the best anti-fatigue mats is definitely the Bubble-Top Anti-Fatigue mat. This mat is designed to be comfortable for people to stand on especially when they have to stand in the same area for a long period of time. These mats have a pronounced surface texture that looks like little bubbles popping out. These bubbles are hollow underneath so they can hold air pockets. The air pockets and these bubbles are what make this mat so great when it comes to fatigue. They help cushion your weight and spread it out so your body doesn't get so tired as quickly as it would on a hard surface like concrete. I would choose this mat over any other anti-fatigue mat like the Comfort Cloud, because its design is appealing and it's not made of a sponge material which can break apart a lot easier and sooner.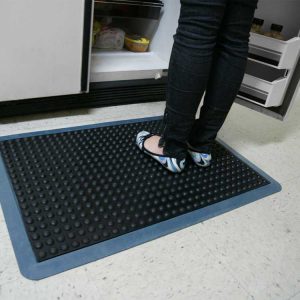 The Bubble-Top Anti-Fatigue mats also have colored beveled edges that reduce the chances of anyone trip over the edges of these mats. The color options can help you fit this into your current design of a room or area so you don't have to change anything. These mats can come in 2 different sizes as well to fit your needs from a 3ft x 2ft piece or a 3ft x 4ft mat that Range in price from as low as $33 to $99 at the highest. These mats are 5/8th of an inch thick so they aren't those really thin mats that you sometimes see at groceries or super market stores behind the cash register. The Bubble-Top mat can help stores keep their employees happy and comfortable, which will in turn improve their productivity and happiness in the work place. This could also be said for someone who works from home or has to stand in the same place for a long period of time. Overall there is no better product in regards to anti-fatigue than the Bubble-Top mat.
Comfort Cloud: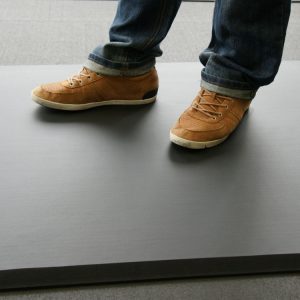 As the name suggests, this mat is specifically designed for providing comfort. If we were to give a personal preference to any of these products, the Comfort Cloud would probably be our favorite. It is very soft and very cushiony to the touch. Your feet will sink into its surface and you will actually feel like you are standing on a cloud! Now here is the catch, these are not rubber comfort mats. Instead, they are made from a foam PVC material. However, it is definitely the softest material in Rubber-Cal's matting lineup and the best suited to foot comfort. It is available in three sizes:  18″ x 24″, 24″ x 36″, and 30″ x 60″. Although it doesn't offer much in terms of color options (only black), you will forget any aesthetic hangups once you stand on this work of art.