Rubber-Cal Inc. is a nationwide distributor of rubber mats and flooring. In 1994 the company was born in beautiful Southern California and has maintained its home in Orange County ever since.

They inventory a large and diverse catalog of matting and flooring products made from rubber and vinyl. Rubber-Cal's line of flooring and matting is made of the highest quality materials and can be used in a vast range of different settings that include gyms, basements, garages, workshops, kitchens, bars, lounges, break rooms, and a whole lot more. The Santa Ana based company is a big believer in the idea of "Living Brands", the idea that companies should keep an ever-present ear on the market in order to adapt and evolve to the changing demands of their respective industries. Another feature that sets them apart from the competition is their emphasis on providing eco-friendly alternatives whenever possible. Rubber-Cal is a big proponent of environmental responsibility and they use eco-conscious "Green" materials such as recycled rubber and natural coir in their products whenever they can.
In addition to their incredible lineup of flooring, Rubber-Cal is also a leading provider of industrial sheet rubber, flexible ducting, coir doormats, and specialty rubber parts for street sweepers and snowplows. This has allowed the company to be active in several different industries in the residential, commercial, and industrial realms. When someone has a need for high temperature rubber gasket material, they come to Rubber-Cal. When someone needs dependable and flexible hoses for their HVAC units, they go to Rubber-Cal. When someone needs rubber cutting edges for their snowplow vehicle, of course they go to Rubber-Cal.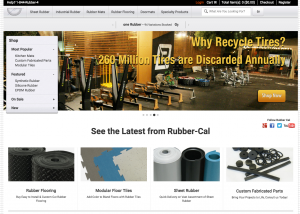 Yet the company is perhaps most widely known for its rubber flooring products. As proof of this, one simply needs to look at their rubber flooring products featured in the media. They have provided rubber mats and flooring to high profile television shows such as The Biggest Loser, The Martha Stewart Show, Sweat Inc, and Extreme Makeover: Home Edition. In some instances the company has been tapped by these shows for multiple seasons.
The company's reach is national and they have established a solid reputation as the go-to source for all matters related to rubber. They own several different brands such as RubberFlooringExperts.com, FloorMatCompany.com, Ducting.com, and CoirMat.com, with each site being geared around a specific segment of Rubber-Cal's expansive product line. With their proven track record of success, we encourage you to visit Rubber-Cal and see how they can help you with your rubber flooring project.