Playgrounds: Fall Height Ratings
Playgrounds are meant to be fun areas for children where they can play to their hearts content. When it comes to children in playgrounds, safety is the top priority. Since some play equipment, such as slides and jungle gyms, are tall and elevated from ground level, there is a risk that a child can fall several feet and injure themselves. This is why all playground surfacing must be tested for a fall height rating. In many instances, it is mandatory to have this rating.
The America Standard Testing Methods, or ASTM, defines fall height on playgrounds as the distance between the highest play surface on a piece of play equipment and the protective floor underneath. A fall height rating for a protective surface is the maximum fall height that will not result in a serious or fatal head injury. This rating is tested by, measuring the shock absorption capabilities of the protective material, as objects impact it with different velocities corresponding to different fall heights.
When it comes to specific products for playgrounds, durability and safety should come in one package. One of the more popular and recommended surfacing products is interlocking rubber tiles. Rubber playground tiles are designed with both durability and safety in mind. Typically for playgrounds you want look for the tiles that are available in thicker gauges, something like either 2.5 inches or 3 inches. These tiles then each have a safety fall height rating of 6ft for the 2.5 inch tile and 7ft for the 3 inch tile. This rating is required for schools or counties when they decided to install a new playground surface. They are made to protect children and others from falls from either a play set or just tripping as they play over this surface. A fall height rating of 6ft or 7ft will cover the majority of playground equipment.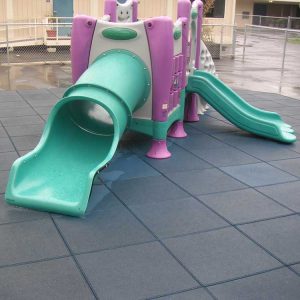 The 2.5 inch thick tiles have the safety fall height rating of 6ft which means if a child falls from that height or lower onto the playground surface tile they will be relatively unharmed. They might be a bumped, bruised, and shaken up, but overall they will not have serious injuries like they would have if they fell onto concrete or another hard surface. The 3 inch tiles have the same rating, but for a 7 foot fall. These ratings are based off testing that has been done on these tiles for each thickness. Since these tiles are made of recycled rubber they will be durable and withstand the constant foot traffic it will see and still provide that safety for children.