Floors are made from materials such as wood, concrete, cement, and stone, just to name a few. We have all walked on these surfaces and they seem very sturdy, right? Unfortunately, that is not always the case. While they may seem durable enough to stand up to the repetitive pressure of human foot traffic, they can suffer from damage quite easily. Stains on wood, chips in cement, and cracks along concrete can be hazardous and costly, a headache-inducing combination that no one should have to deal with.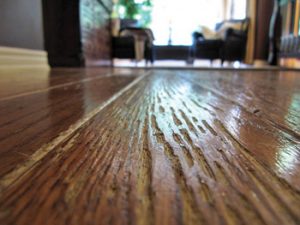 Floor damage effects both the home owner and the business owner. For starters, it lowers the visual aesthetic appeal of the area. Floor damage is ugly and no one wants to see it. This can be very detrimental in the case of a commercial and/or industrial venue. You can lose customers because damaged floors look unprofessional. Worse yet, if chip or crack damage is deep enough, they can create tripping hazards that can lead to both customers and workers taking a nasty fall.
The best way to protect your floors from damage is with the help of a rubber mat. Whether you have a standalone rubber mat for a specific section of your floor or a network of interlocking rubber tiles to cover a larger, rubber floor protectors are the smartest surface shields that money can buy. They have the physical durability that is required to hold heavy weights, but also enough elasticity to absorb shock, impact, and vibration.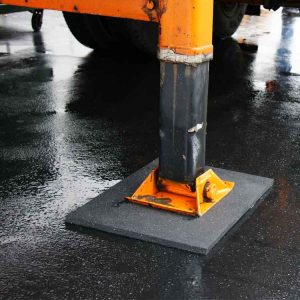 Places that have a lot of heavy equipment in the vicinity, such as commercial gyms and industrial factories, need rubber floor protectors that are thick. Generally, a thickness ranging from 3/8″ all the way up to 2″. As a general rule of thumb, the thicker the rubber mat the more ideal it is for protecting floors. The enhanced gauges hold more weight and absorb more impact. For example, if a 150 lbs weight is dropped on top of a rubber mat that is 1″ thick, it will absorb most (if not all) of the impact of the weight, thereby minimizing the amount of force that is transferred to the existing floor.
The rubber material used in protective floor mats must also be very durable. Foam/sponge rubbers are not the ideal type of rubber to use as material for rubber floor protectors. They are meant primarily for comfort. If durable floor protection is the goal, you want a strong and dense type of rubber in your matting. Options like recycled rubber and SBR are designed to take a beating, so it is no coincidence that they can be found in a multitude of matting and flooring products.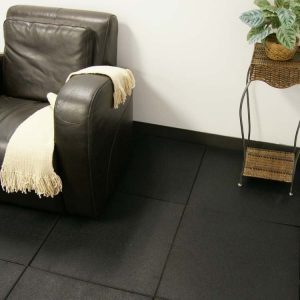 Having rubber floor protectors in place will reduce a lot of stress for you. You will not have to worry about your floors suffering from sever damage like chips and cracks. While there is always a chance for some damage to appear, rubber mats greatly reduce and sometimes even eliminate that risk. Since flooring damage is expensive to repair, you can rest easy knowing that you have more money in your pocket to put to better use than repairing floors. Depending on your needs, look for rubber floor protectors that are within 3/8″ to 2″ thick and made from dense durable rubber materials.