Expert Picks: Garage Flooring
The garage is an important part of every home. Whether they are used to park your cars or converted into a separate bedroom/mancave, garages can benefit from having new flooring options installed in them. Most garage surfaces are made of concrete. It tends to be very bare, cold, and ugly. Rubber flooring can be a remedy to that. In fact, we would go even further than rubber flooring and recommend you take a look at PVC flooring options as well! We went to our favorite experts at Rubber-Cal to get their best recommendations for garage flooring. If you have a garage that you are in the process of renovating, you will want to give careful consideration to what these guys have to say.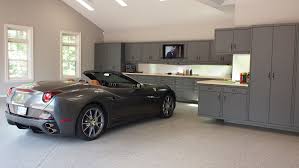 Stuart Salling:
A garage floor can subjected to a wide range of stressful conditions, which is why it is important to cover the floor with the proper type of material suited for your situation. If you were looking for a nice clean finish with a workshop look, the "Diamond-Plate Metallic" PVC Flooring would be a great fit for you. This product is relatively thin at just under 1/8 inch thick but is incredibly durable and the diamond shaped surface patterns give you the traction needed to stay on your feet even in wet conditions. With a composition of PVC, the Diamond-Plate Metallic material is resistant to not only to oil and grease, but to the oxidation process as well. This products durability and composition allows it to hold together a lot better and a lot longer than some more traditional rubber materials, especially when exposed to the same types of conditions. The strength of this PVC flooring and the clean look of the material is what makes the Diamond-Plate Metallic perfect for your garage flooring needs.
Brian Holst:
To park, or not to park: that's a primary consideration when selecting a garage floor. A garage is a versatile space in your home or building, and you need a versatile flooring to cover it—that's why I recommend RubberCal's Diamond-Grip and Coin-Grip flooring. Both types are made from PVC, which, unlike rubber, won't be damaged by a car's oil.  Even if you don't intend to park a car in your garage, plans can change in the future, and PVC-based floor gives the space added flexibility. These floors are just as durable as many types of rubber flooring, so they're resilient to everyday wear-and-tear. Like rubber flooring, they provide traction to prevent slipping, and they're just as easy to clean as rubber floors. In my opinion, the Diamond Grip and Coin-Grip floors offer a superior aesthetic appeal, which is why both of these are my personal favorites for garage flooring.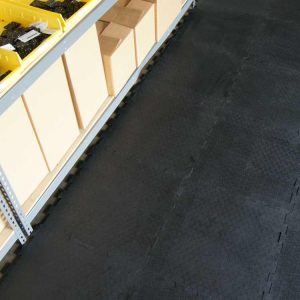 David Benavides:
If you plan not to place your car in the garage, then a rubber flooring product would be best option because it helps give you traction, protects the floor underneath, and can look cool too. Obviously the thicker you go the more protection it will offer to the subfloor and help provide some anti slip resistant so if you spill a drink or water you will have less of a chance of having a fall. Most of these rubber products are very easy to install. A great example of this is the Armor-Lock interlocking tiles, which have puzzle-like edges that interlock the tiles together, or like the Elephant Bark Recycled Rubber Flooring that comes in a roll and can be rolled out into a specific section of the area. One great rolled option is the Tuff-N-Lastic rubber flooring, which is a great budget-friendly product that will not break the bank. Other products like Elephant Bark come in thicker options that can also have colored speckles to liven up the area or maybe one of the colors offered matches your favorite sports team.