Kitchen Mats – How Rubber Mats Create a Safe Kitchen Floor
Kitchens are areas water and oils are frequently in use and, inevitably, spilled onto the floor causing a slip and fall hazard. Rubber mats are an easy solution to safeguarding your kitchen floor and can be bought in different forms and types. Some rubber mats come equipped with drainage holes that cover the entirety of the mat to help drain moisture while others have various surface patterns to help increase traction. Both natural and synthetic rubber materials are used for applications facing various types of hazards. Here are two different rubber mat products that are ideal for use in the kitchen.
"Kitchen Mat" Grease-Resistant Rubber Mat
This rubber mat is made of grease/oil resistant nitrile rubber making it ideal for commercial and residential kitchens alike. Drainage holes are also featured on this mat and helps effectively drain liquid from the surface of the mat to prevent it from pooling and creating a dangerous environment. This mat is highly recommended to be used in kitchens because of its inherent grease/oil resistance. Additionally, due to its durability, this kitchen mat is able to be machine washed in a dishwasher and can be cleaned using mild household chemicals.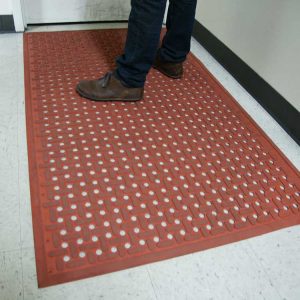 "Dura-Scraper Drainage" Drainage Mat
The "Dura-Scraper Drainage" rubber mat is made up of natural and reclaimed rubber materials and is covered in drainage holes for maximum drainage capacity. Even though it is not grease/oil-resistant, rubber has a high coefficient of friction which allows it to retain its traction even when moisture is spilled on its surface. A added benefit to this rubber mat is its lower price compared to other rubber kitchen mats made of synthetic rubber variations; despite this, the "Dura-Scraper Drainage" can provide the same anti-slip characteristics as its synthetic counterparts.