How to Clean Outside Doormats
Doormats are used to seeing frequent messes and can get dirtied fairly quickly. Thankfully, Rubber-Cal's line of rubber and coir outside doormats are easy to clean due to the materials they are made with. Outside doormats are made using rubber and natural coir materials due to their ability to withstand outdoor conditions and be left out indefinitely without damage. Carpet materials cannot be left outdoors because they are meant to absorb moisture, but are not moisture-resistant which can cause the formation of mold and mildew. Additionally, since doormats generally use a no-adhesive installation method, they can easily be moved for cleaning.
Rubber Outside Doormats
Due to rubber's resistance to moisture, rubber outside doormats can be cleaned using a hose or other sources of water. Other times, stuck on messes can be wiped or scrubbed away with a damp rag or mop. However, if the mess is dry and can easily be swept off, you may use a dry rag or broom to sweep off any unwanted dirt or debris from the surface of the mat. Additionally, since rubber doormat can be used indoors as well, the no-adhesive installation process allows for easy mobility so that it can be taken outdoors to be sprayed down or swept.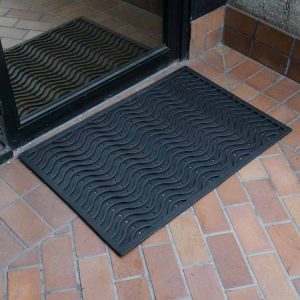 Natural Coir Doormats
Natural coir mats, although moisture-resistant, should not be sprayed down with a hose. Instead, they should be shaken or beaten out or brushed to remove all the trapped dirt and debris that is intertwined deep in the coir fibers. Coir is a naturally rough and durable fiber that can withstand outdoor elements and weather patterns meaning they can stay outdoors indefinitely. This in turn means they should get a frequent brushing to ensure that the coir fibers can do their job efficiently. Furthermore, it is recommended to slightly dampen coir mats to ensure their longevity.