Solid Rubber vs Cellular Rubber
There are two forms of rubber that are available for use in both industrial and residential applications: cellular and solid. As their names imply, cellular rubber is a much lighter and more porous material when compared to solid rubber, which is a dense and non-permeable material. Here, at Rubber-Cal, we offer cellular and solid rubber for EPDM and neoprene synthetic rubbers. Although their structures are significantly different, cellular and solid EPDM as well as neoprene rubbers are designed to resist the harshest of conditions. Continue reading to learn how each form of rubber can be used in various applications.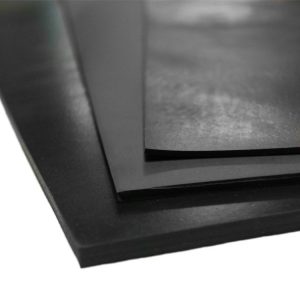 Solid Rubber
Solid rubber is ideal for impact-absorption and floor protection applications. Due to its solid composition, solid rubber is best for absorbing the force of impact and preventing any damaging energy from reaching the subfloor it is protecting. For instance, solid rubber gaskets and protective pads are often placed between two pieces of equipment or between the floor and the equipment to prevent damage caused by clanging or vibrating equipment. Additionally, solid rubber is best used for abrasive applications as cellular rubber is too porous to provide ample protection from abrasions.
Cellular Rubber
There are two forms of cellular rubber, open cell and closed cell, that are characterized by their porous structure and high compressibility. Open cell rubber is a highly permeable material that is best used for sound absorption applications. It is much more porous than closed cell rubber, making it better suited for sound absorption; the large air pockets within open cell rubber allows the energy of sound to easily dissipate. Closed cell rubber, on the other hand, has smaller and tighter knit air pockets than open cell rubber and can be used in moisture-related applications. Cellular rubber is generally used for high compression applications due to their durability in highly compressive applications.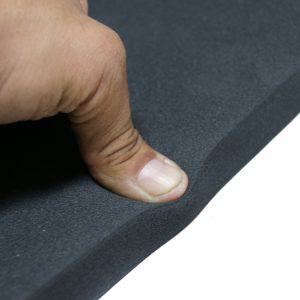 To learn more on cellular and solid rubber materials, click the link below!
https://www.rubbercal.com/sheet-rubber/two-types-of-neoprene/