Expert Picks: Popular Rubber Mats
Rubber mats are one of those ubiquitous products that are everywhere but often receive little attention. In a home, you can find them either at the front doorway, patio doorway, or the kitchen. For commercial settings such as restaurants or offices, rubber mats are used for providing comfort and traction along a corridor or at a desk. Even in industrial areas, rubber mats can be found underneath heavy equipment or acting as a guide along a walkway. We asked our favorite guys at Rubber-Cal to provide some insight on some of the most popular rubber mats available for any application.
Brian Holst:
Shark Tooth Rubber Mat
Our Shark Tooth mats are a heavy-duty recycled rubber matting option that provides lots of protection to floors, all the while providing ample comfort to those walking on it. At 5/8", the product is primarily comprised of recycled rubber, yet also has a bit of EPDM mixed in with it.   For those that might be considering Elephant Bark flooring, but want a heartier alternative, Shark Tooth gets the job done and won't bite off more than it can chew. In home environments, it is one of the best choices for equipment padding in various locations. In home gyms, it can handle the vibration of large fitness equipment, whether you're running on a treadmill or dropping heavy weights onto the floor. In laundry rooms, it is one of the more popular rubber mats to use under equipment. Shark Tooth flooring can kill two birds with one stone: they'll protect the subflooring from the vibration of washers and dryers, while also providing an anti-fatigue flooring for people to stand on.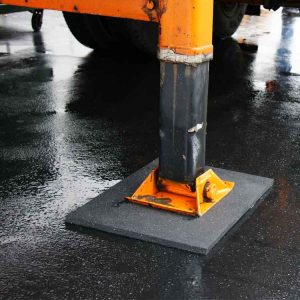 Shark Tooth isn't just designed for use as a mat, its three sizes (2 ft. x 3 ft., 3 ft. x 4 ft., and 4 ft. x 6 ft.) can also be used to floor an entire room. It makes for durable, long-lasting flooring in a basement, cellar or attic—no matter what is being storing there, or how heavy it is, Shark Tooth can handle it. In garages where vehicles aren't stored, it's also a wise choice to floor the garage for the same reasons, along with its anti-fatigue comfort for those working within it. EPDM is good for use outdoors, since it is resistant to UV rays and ozone, and thus Shark Tooth is also great choice to floor patio or balcony in a home or apartment unit.
David Benavides:
Soft Cloud Anti-Fatigue Mat
The Soft Cloud is a great comfort mat that can be used in multiple areas. The comfort mat is made of a closed-cell Nitrile sponge compound. Since this mat is made of Nitrile you get the benefit of it being grease resistant so it can still be used in industrial areas like an assembly line that might have oils and greases getting on the floor. This mat comes in 2 different sizes of either 2ft x 3ft (4.6Lbs) or 3ft x 5ft (12Lbs) and a thickness of ¾ of an Inch. Since this mat is ¾ of an inch thick and made of a closed cell sponge it can compress under your feet and still not be flattened to the ground which would feel like you are standing on the surface underneath. This product is superior to other products like the foot rest, because it can withstand oils and greases and has more give to allow more comfort.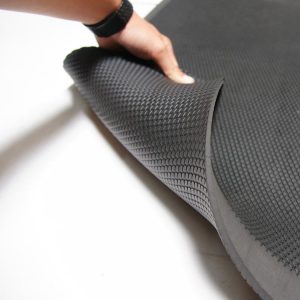 The Soft Cloud comfort mat has a textured surface to give people traction when they stand on it so they don't have to worry about slipping off it. The underside also has this textured surface so the mat will not be sliding around underneath you as you stand on it. This mat provides the ultimate comfort to you and your body. When standing on a hard surface your legs and joints start to take all the weight and pressure from your body and you get fatigued much faster. The Soft Cloud comfort mat helps spread that pressure over a larger and soft surface area so you don't feel as fatigued from standing so long in one place. The comfort mat can be used on assembly lines, factories, cashier stalls, kitchen, office spaces or just anywhere that you or anyone else will be standing at for a long period of time. With all that being said, this is easily one of the most popular rubber mats asked for by customers.
Stuart Salling:
Safe-Grip Anti-Slip Mats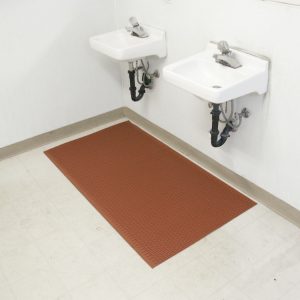 The Safe-Grip rubber matting is designed with a surface pattern to increase traction for slippery floors. Available in black, brown, and red, these popular rubber mats are made from natural rubber, enhancing ones grip while walking atop it. With small drainage holes to prevent water from stay on the mat, the surface of the Safe-Grip is lined with raise bars, which decreases the risk of slipping. These 34inch wide rolls are ¼inch thick and are available in custom lengths upon request up to max length of 50ft. With pricing start as low as $49.30, the Safe-Grip anti-slip mat is a great way to keep your floors safe! Excellent for those wet areas, the Safe-Grip mats work great in bathrooms showers, and locker rooms. Some other spots to place these mats for increased safety are as a bar mat, coffee shops, an exterior doormat, and more!