Essential Rubber Flooring
The hunt for the right kind of rubber flooring can be brutal. There are so many different options out there, with a whole gaggle of different companies offering a multitude of products. Its enough to make your head spin. Frankly, your head should only be spinning after an epic night out or a glorious workout, not from shopping for the best rubber flooring for your project. Luckily, we've asked the gentlemen at Rubber-Cal for their top rubber flooring picks.
Brian Holst:
Puzzle-Lock Interlocking Rubber Mats
Puzzle-Lock Interlocking rubber tile mats have a plethora of uses around the home. Made of recycled EPDM rubber and 3/8" in thickness, these 20 in. by 20 in. square tiles are incredibly useful due to their highly modular nature, able to be installed as a permanent flooring option, or placed as temporary matting. Puzzle-Lock, like many of our tiles, can be used as home gym flooring, whether there's an entire room dedicated to said gym, or just an area of an office or garage. The tiles are thick and durable enough to handle fitness equipment like treadmills, or dumbbells that are kept at home.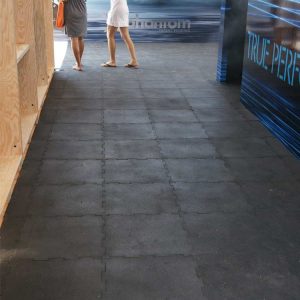 Puzzle-Lock tiles are an optimal flooring solution for homeowners who have a dedicated playroom for their children. We all know that children can drop things, spill drinks, and make other will-intentioned messes. Puzzle-Lock will protect the subflooring from any damage from accidents and spills, all while providing a comfortable surface for kids to play on.   And speaking of spills: like all of our rubber flooring, they're simple and easy to clean with common household cleaners. These qualities also make Puzzle-Lock tiles suitable for use in flooring basements and "man caves", where they'll make a comfortable floor that can be easily cleaned and maintained.
Recycled Rubber Flooring Rolls
Recycled Rubber Flooring is available in two thicknesses: ¼" and 3/8", and it's one of Rubber-Cal's most versatile products. It's a great option to floor a garage, basement, cellar, or even an attic. Recycled Rubber Flooring provides plenty of traction for those walking upon it, and it's just as comfortable, too. These storage-oriented spaces tend to become dirty and dusty over time, and Recycled Rubber Flooring is easily cleaned with common household cleaners. It's also great for protecting the garage subfloor from any heavy equipment that might be kept within the garage, or equipment with sharp edges on the bottom—and conversely, it protects whatever you store on the floor from getting dinged up by cement or similarly hard flooring. An additional piece of Recycled Rubber Flooring can be used as a pad upon which heavy equipment can be placed while its not in use.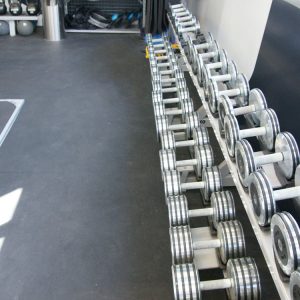 Elsewhere in the home, Recycled Rubber Flooring is yet another terrific choice to floor a home gym, or as a pad upon which gym equipment can be placed. It can also be used as a mat for use stretching and yoga routines. Since this product is made of recycled rubber that originally comes from car tires, it's just as well suited for outdoor use as indoor use. It is a comfortable, durable option with which to line a balcony or a patio. Subflooring isn't the only surfaces in homes that Recycled Rubber Flooring can be used to protect: the product is equally well suited to line the shelves of storage areas, large closets, and pantries.
David Benavides:
Paw-Grip is the perfect rubber runner for wet areas, especially in kitchens or industrial areas. The Paw-Grip rubber runner is a grease resistant anti-slip mat that can be placed just about anywhere that will see moisture and have a slip hazard. The drainage holes on its surface help drain any liquids away form the area. While the drainage holes let liquids drain the top surface has pill shaped surface texture that have a rough top surface to help give shoes and feet traction when walking over it. With these two characteristics the Paw-Grip can be seen as the perfect anti-slip rubber runner.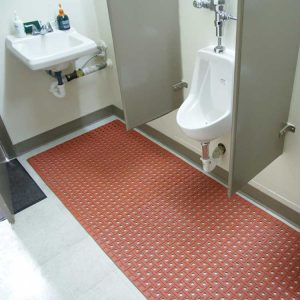 This runner is available in a 34-inch wide roll that can have custom cut lengths up to 50ft. This means that the runner can fit any place from a small kitchen to a long bar and even a warehouse or car wash. The runner is also available in two different colors either black or red so it can fit different color schemes or stand out if needed. For installation all you need to do is roll it out and you are good to go. This product is made of Nitrile rubber so it can be placed in kitchens by fryers or near motor vehicles, because it will not break down like other rubber products around oils and greases. Overall this is the best anti-slip rubber runner that does it all.
Revolution Interlocking Rubber Tiles
The Revolution rubber tiles are some of, if not the best, gym flooring tiles. These tiles come in 3ft x 3ft tiles that have 9 other mini-tiles designed on the surface. These surface tiles can also come in different designs from a plain flat rubber surface to a diamond plated rubber surface depending on your preference. These tiles are 5/8 of an inch thick and have little air pockets underneath the surface that help trap air. This trapped air and air pockets compress when someone steps on it providing a comfortable and cushioned surface. Comfort and support is always important especially in gym areas when people have to worry about exercising and not think of how hard the surface they are on is.
These tiles are made of reclaimed rubber so they are an eco-friendly product that is made to be durable and withstand the heavy foot traffic typical in a gym. This product can be used in a commercial gym, home gym, office space, or even a man cave. For the Revolution rubber tiles they even have ramped edges so you won't have to worry about someone tripping on the edge and falling. Overall this product is a great flooring option for anyone that wants a comfortable and durable floor.