Expert Picks: Commercial Gym Flooring
Rubber-Cal does a lot of business with commercial gyms throughout the country. The company's rubber flooring products are uniquely suited for use in those high impact settings. We asked the guys at Rubber-Cal for their best picks on flooring options for commercial gyms.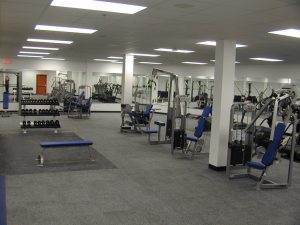 Stuart Salling:
When it comes to commercial gyms, a specific RubberCal flooring product stands out amongst all others: Elephant Bark. These commercial gyms experience high levels of use, and the durability and resilience of Elephant bark is perfect for the job of minimizing potential damage and/or wear. This product comes in a 4 ft wide roll with any desired length up to a max length of 50 ft, which makes covering large surface areas much easier. The composition of Elephant Bark contains post consumer recycled rubber from old car tires, which not only makes it durable and resistant to wear but also makes it an eco-friendly product.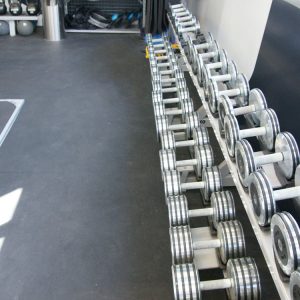 David Benavides:
When going to a gym I always look at what type of flooring they use and I've discovered rubber is the best flooring for this type of application. Products like the Elephant Bark and Armor-Lock Fitness help cover a full gym area easily and effectively. Rubber flooring helps reduce vibration and dampen any shock there might be from the weights and equipment pounding on the floor. These products ensure the subfloor is protected from all the equipment and helps protect the equipment from a hard surface underneath. If a thicker option is required for gyms that do exercises similar to crossfit there are mats like the Shark Tooth, Maxx-Tuff or the Eco-Sport Tiles that are thicker and can withstand more impact. What I like about these rubber flooring options is that they can be flooring for a whole gym or as individual mats just to cover a small area. All these rubber gym flooring products can be used indoors or outdoors. Since rubber gym flooring has these multiple characteristics and comes in a variety of shapes and sizes it can be considered the best gym flooring option available.
Brian Holst:
My go-to recommendation for commercial gym flooring is RubberCal's Eco-Sport line of interlocking rubber tiles. Due to the thickness of these recycled rubber tiles (¾" to 1"), they provide exceptional shock absorption for the joints of gym members walking and exercising throughout the gym. This same quality also serves to protect to flooring underneath from dropped weights and the vibration of cardiovascular equipment.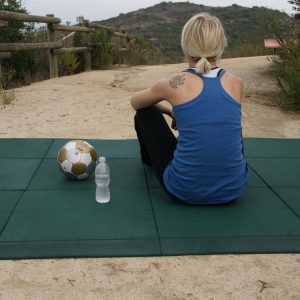 While many rubber flooring options come in only one color—black—the Eco-Sport tiles are also available in blue, green and terra cotta, giving a gym owner several options for their own aesthetic considerations. Plus, these tiles are easy to install without professional assistance, as they're designed to connect to each other via interlocking pins that will keep them in place. Like all rubber flooring, they're a cinch to clean, with no special cleaners needed—and you won't have to worry about mold and mildew when gym members inevitably spill a bottle of water.