Natural rubber and all its variations, such as recycled rubber and reclaimed rubber, are not oil-resistant and will be severely damaged when exposed to any oil. Oil breaks down the structure of rubber, preventing them from providing a protective barrier. However, there are two synthetic rubber types that retain excellent oil-resistance properties and can be used in applications involving oil. Neoprene and nitrile are two synthetic rubber variations that are able to withstand oil, but they also have other properties that differentiate them from each other. Continue reading to learn more on the unique properties of these synthetic rubbers!
Neoprene
Neoprene, also known as chloroprene rubber or polychloroprene, was the first synthetic rubber made to specifically replace natural rubber as an oil-resistant and more durable alternative. Made from the chlorination of butadiene and isoprene chemical compounds, neoprene rubber is able to resist the damaging effects of oil, chemicals, and extreme heat. Neoprene also stands up against abrasive outdoor factors, such as ozone, UV rays, oxygen, and moisture. For these properties, neoprene is a popular material used for seals and gaskets in industrial settings, marine settings, and even in the outdoors without deteriorating under harsh solvents and weather conditions.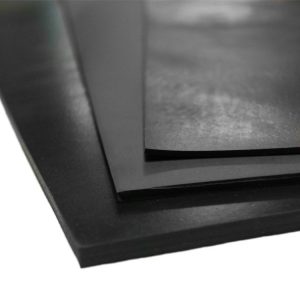 Nitrile
Nitrile, or Buna-N, is the most oil-resistant rubber available on the market today. It is a copolymer of butadiene and acrylonitrile which gives them the ability to resist oils and chemical solvents. The acrylonitrile content is especially important because it dictates the level of oil-resistance the material will retain once finished with its production process. For instance, the higher the acrylonitrile content, the more resistant the material will be to the effects of oil. However, unlike neoprene, nitrile rubber is not suitable for outdoor usage. Nitrile rubber is highly susceptible to damage caused by ozone and oxidation and will soften the material, making it weaker and unfit for service. Due to these properties of nitrile rubber, it is best used for oil-intensive applications that are indoors and away from oxygen and ozone exposure.