Benefits of Rubber Drainage Mats
Rubber drainage mats are a common sight in many commercial venues such as restaurants, bars, and gym locker rooms. Whenever there is an increased presence of moisture in an area, you simply must have a rubber drainage mat in place so that you can provide both yourself and your guests with a safer non-slip surface to walk on. As their name suggests, these rubber mats have the ability to drain liquids and even small solid particles. They tend to have drainage holes or channels that help facilitate their drainage ability. If you're on the lookout for high quality dependable rubber drainage mats, consider taking a closer look at the following.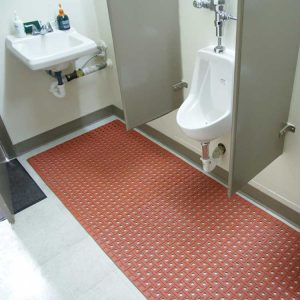 Dura-Chef Interlock Rubber Mats:  This interlocking mat is the best option when it comes to having to cover a large area that is either wet or slippery. The Dura-Chef interlocking mats can be connected to each other to create one long mat to cover that bigger space such as a kitchen line or wet pool area. The Dura-Chef interlocking rubber drainage mats are perfect for this type of setting or in any area that might get wet and slippery. These Dura-Chef interlocking mats have drainage holes throughout the surface of the mat so that liquids and small solid pieces can fall through and not cause a hazard to those walking on top of the mat. This mat is made of natural and reclaimed rubber so it works as an anti fatigue mat as well which is very popular with most people who have to stand for long periods of time. These mats come in a 3ft x 3ft square, 5/8" of an inch thick and weigh 18 lbs so once they are set down they won't be moving around so easily.
Dura-Scraper Drainage Rubber Doormat:  The Dura-Scraper Drainage mat is the best doormat you can get for any doorway. It excels in the outdoors especially when there is lots of moisture from rain or snow. As the name suggests, it has drainage holes that allow moisture and melting snow to drain away so it will not build up and cause a puddle to form. The surface also has a design made to scrape debris off the bottom of a shoe or boot as they walk over it so they don't carry that into the building or area. This 24inch x 36inch mat also has beveled edges to help prevent any tripping from occurring. The mat is made of natural and reclaimed rubber which means this product has a high level of friction that helps it stay in place even when wet.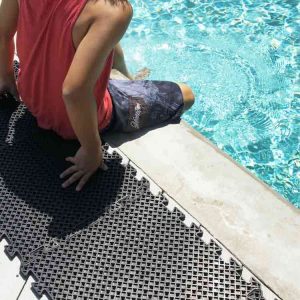 Eco-Drain Interlocking Rubber Drainage Tile:
The Eco-Drain interlocking tile is the best tile to use in wet areas that you need to cover with an anti slip surface. This 20inch x 20inch tile interlocks with it's puzzled like edges and is 5/8 of an inch thick. The tiles are made of natural and reclaimed rubber that make this product comfortable to walk on with bare feet. This makes the Eco-Drain tiles ideal for wet areas like pools, locker rooms or even saunas. The eco drain is designed to let liquids drain through it's drainage holes and has small feet underneath that have the tile slightly raised so the liquids can then drain away from the tiles. This product only weighs 4.4 lbs, but once you connect a few of these together you will not have to adhere them down to anything in order for them to stay in place.