Top 5 Best Rated Exercise Weights on Amazon!
Here at Rubber-Cal we love encouraging our consumers to get out and get active, but that hasn't been so easy with a worldwide pandemic on our hands. An easy and convenient alternative to public gyms is working out at home. Check out Amazon's top 5 best rated exercise weights you can use at home!
Best Overall Dumbbells – Portzon Set of 2 Neoprene Dumbbell Hand Weights
This set of 2 dumbbells is ideal for those looking for simple and inexpensive home weights. Available in 8 different sizes of 1, 2, 3, 4, 5, 6, 8, and 10 pounds, it is easy to find the perfect weight for your fitness routine! In addition, its neoprene coating makes it a safe and non-slip dumbbell. Best of all, its small frame make for easy storage as it occupies very little space and its hexagon shape prevents the weight from rolling.
Best for Moderate Resistance Training – Amazon Basics Rubber Encased Hex Dumbbell Hand Weight
Made for those looking for a more vigorous workout, these Amazon Basics dumbbells are ideal for resistance training. These weights are sold individually and are available in 10, 15, 20, 25, 20, 35, 40, 45, and 50-pound variations which allows for consumers to choose the intensity level of the workout. The solid cast-iron bar will not bend or break after repeated use and its rubber hexagon-shaped ends prevent rolling for easy storage.
Best for Serious Training – CAP Barbell 150-Pound Dumbbell Set with Rack
This set of 5 pairs of dumbbells are the perfect set of weights for serious training. With pairs of 5, 10, 15, 20, and 25-pound weights, this dumbbell set allows you to partake in a full-body workout or a targeted exercise. In addition, the A-frame rack design allows you to maximize floor space when storing the weights.
Best for Muscle Toning – Sporzon! Neoprene Coated Dumbbell Set with Stand
As a smaller version of the CAP 150-Pound Dumbbell Set, the Sparzon! Neoprene Coated Dumbbell Set is great for lightweight muscle toning. Coming with 3 pairs of 3, 5, and 8-pound weights, this set of dumbbells allows you to select workouts based on the sports played. Furthermore, its neoprene coating allows it to be used both indoors and outdoors while its easy-to-assemble stand saves space with neat storage.
Best for Beginner Deadlifting – Club Quality 4-Weight Deluxe Barbell Set
The Club Quality 4-Weight Deluxe Barbell Set is ideal for those just starting to deadlift. This set includes two 2.75-pound, two 5.5-pound, two 8.25-pound, and two 11-pound weights, allowing you to add or remove weights as you see fit. In addition, the hinges that hold the weights together on the bar are secure and easy-to-use making them safe and convenient.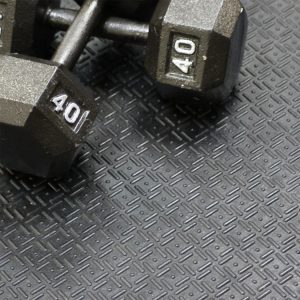 Dumbbells and barbells are heavy and can be extremely damaging to existing home floors. Check out Rubber-Cal's line of heavy-duty rubber floor protector mats, click here!
– This blog post is a subjective review of the top ranking dumbbell sets on Amazon. Written by Courtney Yoon.