How to Use Christmas Mats as Décor
With the holidays coming in hot, we would like to share our wide variety of Christmas mat designs. For a more modest and minimalistic home entrance, there are simpler and less elaborate designs available including script or simple patterns. For those who love bright colors and images, there are more elaborate designs available with beautiful paintings of Christmas scenes or a winter wonderland. Coir is a natural material that will not only frame your home's entrance with beautifully painted, but also add extra safety measures, including scraping and moisture absorbing properties, to ensure the safety of your family and friends.
Christmas Mats with Images
Christmas mats with elaborate images are ideal for a more decorative look or as another addition to your outdoor Christmas decorations since they are flashier while script designs are generally reserved for more modestly decorated residences. These images include all your favorite Christmas characters and animals including Santa Claus and other Christmas animals. These classic Christmas characters and animals are the perfect decoration choice to transform your home into a Christmas wonderland. Other images have gorgeous winter scenes that will remind you of a picture-perfect white Christmas like those seen in movies.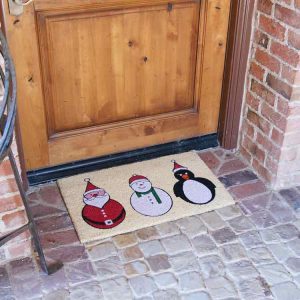 Minimalistic Script Mats
If you are looking for a doormat that is less elaborate but still elegant, a doormat with script is the perfect choice. Christmas mats with script designs on them are generally used in more modestly decorated residences. Script gives Christmas themed doormats a more minimalistic aesthetic while still keeping with holiday décor. They welcome guests with a warm and festive "Hello!" while being aesthetically pleasing enough to make the perfect addition to modest and elegant outdoor Christmas decorations. Whether you are looking for a simple "Welcome!" or a festive "Merry Christmas," either Christmas mat will be sure to welcome your family and guests with holiday cheer.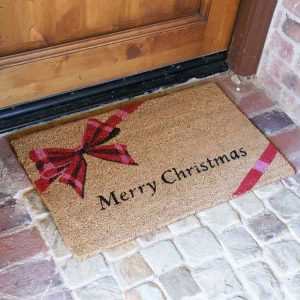 With a wide variety of elaborate painted designs to minimalistic script, there is no reason a coir Christmas mat cannot be placed at your home's entrance. Beautifully painted Christmas scenes and elegantly written script will help decorate your home for the holidays as well as ensuring each and every one of your guests is in the holiday spirit. Not only will coir door mats add a touch of decoration to your home but, it will also add an extra level of safety and cleanliness by helping to remove unwanted dirt, debris and moisture from the bottoms of your shoes as you enter your home.