New Ideas for Basement Floors
A basement is a section of a home that is either partly or entirely located below the ground floor. Many homes across the US have some sort of a basement. Also referred to as cellars, these areas of the home typically house the less exciting features that are necessary for modern living:  boilers, water heaters, fuse boxes, etc. Sometimes the basement is a forgotten part of the home, but in recent years people have been renovating their basement areas to use as spare bedrooms, home gyms, game rooms, and personal offices. A bare basement offers a lot of potential for new DIY renovation options.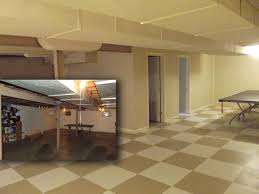 No matter what you want to turn your basement into, one of the first places to start your renovation is the floor. There are many ideas for basement floors out there, but one of the best options to consider is rubber flooring. As a flooring material, rubber is ideal because it tends to be less expensive and more durable than some of the other fancier options like wood and tile. This combination of durability and affordability has made rubber flooring options very popular in the home DIY markets.
Rubber flooring ideas for basement floors come in two options:  rolls or interlocking tiles. Some people opt for rubber flooring in the form of rolls, while others prefer it in the form of interlocking mats/tiles. Rolled rubber flooring typically comes in lengths of 50ft, although some outlets will allow shorter custom lengths. People like rolled rubber flooring because they can cover greater distances in one single roll. It is also easier to cut because there are not any interlocking edges/seams to deal with. Rolls can be installed quite easily with the help of double-sided tape, so you don't have to deal with the often permanent sticky mess of glue. As an added bonus, rolled mats can be rolled up and carried around easily in case you have to move.
Rubber flooring also comes in the form of interlocking tiles and these have been very popular in recent years. The exact size and interlocking mechanism will vary depending on the type of rubber tile you use, but in principle they are all the same. They interlock with each other either through their modular interconnecting edges or through the use of connector pins. Interlocking rubber tiles have become very popular with DIY end users because they allow for quick, easy, no-hassles installation. They are also available in a larger variety of different colors, allowing people to do more aesthetically with their basement floors. Aiming for a checkerboard design? Mix and match some colors to see what design best suits your needs.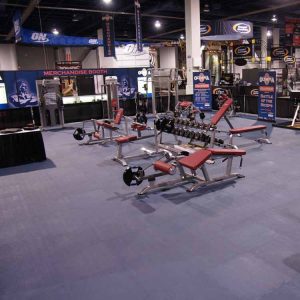 Rubber is so versatile as a flooring product that its many uses cannot be overestimated. It can fit in to any kind of room aesthetic you are aiming for, whether it is a personal gym, study, and even mancave. If you're in the market for these products, you happen to be in luck because there are so many high quality rubber flooring options available right now.