Coir Entrance Mats: Functional and Aesthetic
Entrance mats are the staple decoration choice for most home entrances. Coir doormats often help brighten up your home's entrance and will greet your guests with a warm welcome. Various types of home doormats are available for you to choose from and can be used commercially as well. Although some types of coir doormats are bought with the sole purpose of aesthetics in mind, you will find that both rubber and coir decorative doormats have a high level of functionality to them as well as unique designs that will frame your home's entrance beautifully.
Coir is a rough and durable natural fiber that derives from the husks of coconuts. Most commercially grown and produced coir comes from India and Sri Lanka where weather conditions are perfect for growing coconuts. India alone produces about 2/3 of the world's commercial coir and India and Sri Lanka combined accounts for 90 percent of all coir fiber production in the world. Due to their rough and durable nature, coir has been in use for centuries; however, today it is most commonly used in creating doormats and brooms.
Coir is most often used in the production of front entrance mats mainly for aesthetics rather than functionality. There are wide varieties of decorative doormats with different themed images including nature, animal and holiday. Despite their main use for aesthetics, coir decorative doormats are functional as scraper mats as they effectively remove dirt and debris from shoes before they can litter the floors indoors. Other times, coir home doormats can be made with a mixture of rubber and natural coir fibers. These two materials come together in an ornate cast iron designs with coir fiber mixed into the design. An added bonus is that coir is durable and all-weather allowing them to be use as both indoor and outdoor home doormats.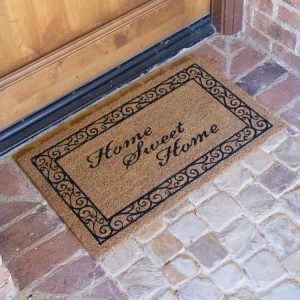 For more information on natural coir mats, visit our website coirmat.com or click the image above!