EPDM is used outdoors and in abrasive industrial settings due to its superior heat-resistance, environmental resistance, chemical resistance, and moisture resistance, even against seawater. As a synthetic rubber, EPDM is highly valued for its excellent life in the outdoors and is often used in outdoor industrial settings where it may come into contact with some mild chemicals, moisture, and outdoor damaging factors. Despite its resistance properties, EPDM is not limited to industrial us; instead, it can be used for residential use around the home as well.
Outdoors/Industrial
As a UV resistant rubber, EPDM is able to resist degradation cause by UV exposure and will provide durable and long-lasting application in the outdoors. Its superior outdoor resistance properties make it the best option for outdoor industrial use. The ethylene and propylene content prevent EPDM from cracking when exposed to ozone and its high tensile strength will reduce chances of tearing or breaking. EPDM is a UV resistant rubber that offers resilient applications in outdoor settings where it is exposed to UV rays, ozone, moisture, and oxygen.
Residential
EPDM is often used as a weatherstrip or a refrigerator seal and can be installed and used in residential applications. EPDM weatherstripping can be found on vehicle windows, trunks, and doors to prevent air or moisture from leaking into the vehicle. Additionally, homes can benefit from weatherstripping windows and doors as it can help insulate the temperature of the air inside. Furthermore, due to its superior resistance to moisture, UV, and ozone, EPDM can be used for residential roofing applications.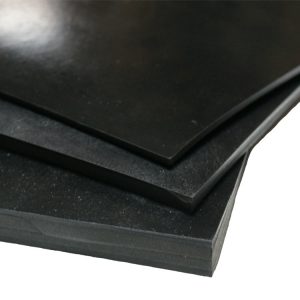 Discover more uses for EPDM! Click the link below to check out our article!
https://www.rubbercal.com/sheet-rubber/epdm-material-properties/