All About Neoprene Rubber
Neoprene was originally invented to be an oil-resistant alternative to natural rubber; however, in today's society, neoprene is used for industrial, automotive, and insulating applications. There are two forms of neoprene: solid rubber and cellular foam. Despite their difference in form, neoprene sheets are inherently resistant against oil, chemicals, ozone, heat, and weathering. Due to these properties of neoprene, it can be used in abrasive environments where they are exposed to corrosive chemical solvents or oil.
Solid Neoprene
Solid neoprene is ideal for impact absorption applications due to its density and durability. Solid neoprene gaskets and seals are exceptional for industrial use as they can provide ample cushioning between two moving objects. Additionally, gaskets and seals are often subjected to extreme heat and corrosive chemicals and oil; thankfully, neoprene will remain a reliable material that will not break down when coming into contact with these materials. Its heat resistance allows it to keep a tight seal as neoprene becomes stiffer when exposed to heat, rather than melting and losing its hold.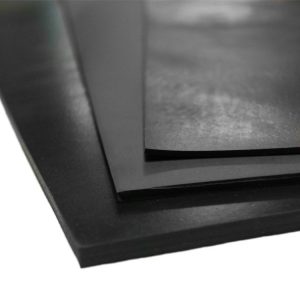 Cellular Neoprene
Cellular neoprene is available in two different forms: open cell and closed cell. Cellular neoprene foam is ideal for compressive applications and energy absorption, such as sound and vibrations. The cellular structure of neoprene foam is created by introducing gases, like nitrogen, into the material before it finishes its production process. This creates numerous air pockets within its structure creating a light and airy material.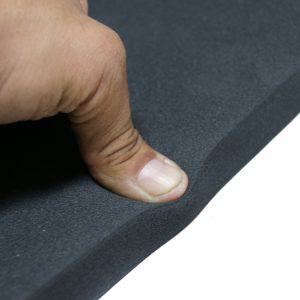 Open cell neoprene foam is an extremely porous material that is not resistant to moisture and will absorb any moisture upon contact. This makes closed cell neoprene foam a popular material in industrial settings. On the other hand, closed cell neoprene foam is highly moisture resistant, with an absorption level of less than 5%, and is more compressible than solid neoprene. This makes it ideal for use as seals and gaskets that need a tight seal. Additionally, its airy cellular structure allows both open and closed cell neoprene foam to effectively reduce the amount of noise created by falling or vibration objects or machinery.
To dig deeper into the properties and uses of solid and cellular neoprene, click the link below to read our article!
https://www.rubbercal.com/sheet-rubber/two-types-of-neoprene/