Top 3 Benefits of Coir Doormats
Coir is a strong, course fiber that is extracted from the husks of coconuts. Historically, coir was used in ancient times as rope making material and other construction purposes due to its strength and durability. These fibers are extremely durable because the coconuts they are harvested from are grown in regions that experience hot and humid weather conditions. Originating from Southern India and Sri Lanka, today, coir is widely used in manufacturing decorative door mats and shoe scrapers. These tough fibers are ideal for scraping off dirt and debris from shoes before they can trail into your home and make a mess. Coir fibers are also excellent at absorbing excess water from shoes to keep moisture from trailing indoors. Here are the top 3 benefits of using a coir doormat at your home entrance:
1. Promote Safety
Coir fibers are excellent safety products. Although they are course, these fibers are flexible enough to squeeze into the hard-to-reach spaces on footwear to thoroughly remove dirt, debris, and moisture. Coir doormats are able to absorb excess moisture that may stubbornly cling to shoes and will trap dirt within its fibers until the mat can be brushed out and cleaned. Debris and moisture on your home's floor not only creates an unattractive home, but it also create slip, trip, and fall when they are left to accumulate on the floor. Coir doormats help reduce the accumulation of hazards on your home floor.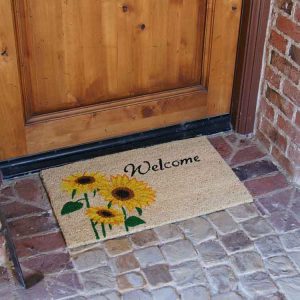 2. Personalize Your Home
Coir doormat are available in countless designs ranging from animal themes to minimalistic welcome mats, making it easy to find a doormat that best suits your personality. For animal and nature lovers, there is a whole selection of coir doormats with floral paintings and images of animals just for you. Beautifully painted floral and nature images are available with various types flowers and trees that will remind you of the great outdoors. On the other hand, welcome mats with funny script and even funnier images are sure to greet your guests with a warm welcome. Minimalistic and traditional patterns add a clean look your home's entrance while sticking to the aesthetics of your home. A welcoming and funny doormat is sure to liven up the entrance to your home!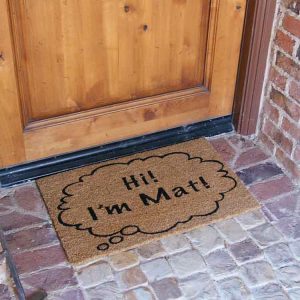 3. All-Weather
Coir fibers are extremely weatherproof material that can be left outdoors for extended periods of time without damage. Due to their origins, coconut coir fibers will not be harmed by damaging environmental factors, such as UV rays, ozone, oxygen, and moisture. Thanks to its weatherproof nature, coir doormats will remain decorative and functional in the face of harsh and wet weather conditions.
Not only can coir doormats warm up your home's entrance, they also have practical uses that help keep the interior floors clean and dry and prevent slip and fall accidents that may lead to injury. Various designs are available to fit the aesthetics of your home while keeping family and guests safe from accidental slips on excess moisture or debris. In addition, they are long-lasting products that will not be damaged by harsh environmental factors as well as abrasions.