How Does Rubber Flooring Perform in Basements?
A basement is a versatile and utilitarian area of the house, one that deserves a flooring that is equally so. Just as a basement can be used for a variety of reasons, a rubber floor meets the needs of any and all of those reasons. For some, a basement can be a garage of sorts: a "man cave" where people go to work with tools, work on projects, or set up something like a pool table or foosball table. For others, a basement can be a default storage area, a place where boxes and equipment are stored until they are needed again. Some homes might turn part of their basement into a home gym where a treadmill and a weight rack stand, when no room on the other floors is available. Rubber flooring's durability means that it can accommodate any of these objects—large or small, heavy or light—and protect the basement's subflooring at the same time.  And rubber has a natural anti-fatigue property, so whether a homeowner is spending the day moving boxes around, or standing around during recreational time, it provides a comfortable surface upon which to stand.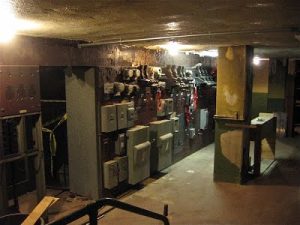 Basements can be a dirty place, which is another factor in rubber flooring's high performance levels in a basement. For basements where foot traffic is light and infrequent, dust can build up quickly. On smooth, hard surfaces, this can create a slip hazard. Yet rubber flooring creates traction via rubber's natural coefficient of friction, which means that it provides anti-slip protection, even when dusty. The ease with which rubber flooring is cleaned means that ridding the basement of dust is quick and easy during annual spring cleaning.
Another reason that rubber flooring performs well in a basement isn't a factor of everyday use, but how it well it can handle certain types of problems around the house. When a pipe bursts, gravity dictates that the water is going to settle in lowest elevation possible—and that's typically the basement, especially since water pipes can run through or near the basement. A carpeted basement would be a mess, requiring the use of blowers for days, if not completely replacing the carpet altogether. But a rubber flooring installed with double-sided tape can easily survive such a situation—it need only be left in the sun to air-dry, and then reinstalled with a new set of double-sided tape. Still a hassle, to be sure, but much better than any of the alternatives!