Heavy-duty rubber mats are usually offered in thicker gauges than normal and can provide better protection against large impacts and heavy weights. These mats are ideally used for floor protection in areas such as gyms and industrial workplaces. Both areas are constant exposed to abrasive objects and materials and a thinner mat may not provide enough cushioning. For instance, deadlifting stations at gyms are constantly exposed to hundreds of pounds being dropped from about waist level. Furthermore, industrial workplaces are filled with heavy equipment and machinery that can damage the existing floor. Here are two heavy-duty rubber mats that are popularly used for high impact applications:
"Maxx-Tuff" Heavy-Duty Mats
At 12mm thick, or just under 1/2 an inch, the "Maxx-Tuff" heavy-duty mat is designed to provide floor protection from the most abrasive of conditions. The impact absorption of these mats is enhanced through the diamond pattern subsurface, which also enhances comfort levels. Furthermore, this product is made with reclaimed rubber and synthetic SBR, which creates a tougher mat when compared to mats made of natural rubbers. This mat is recommended for areas that receive high levels of impact abuse.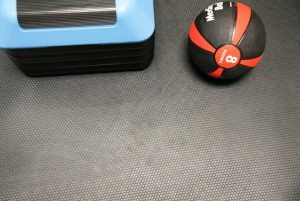 "Shark Tooth" Heavy-Duty Floor Mat
The "Shark Tooth" rubber mat is thicker than the "Maxx-Tuff" heavy-duty mats with a gauge thickness of 3/4 of an inch. These mats are designed to cushion the floors to protect from impact damage caused by heavy objects. At 3/4 of an inch thick, this heavy-duty mat will provide ample protection even when faced with extremely heavy machinery or equipment. In addition, it is made of 100% recycled tire rubber so it is as durable and resilient as the rubber seen on vehicle tires. This mat is ideal for use as gym mats to help avoid impact and vibration damage.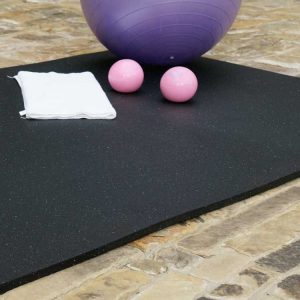 Although heavy-duty rubber mats are used for protection, they also exhibit all the natural qualities of rubber, including non-slip traction. This property of rubber will help keep equipment in place to avoid abrasions caused by shifting while in use.