QUESTION: What are scraper mats?
ANSWER: Scraper mats are made of natural coir fiber and a metal base. The natural coir fiber is a rough and durable material, perfect for scraper mats and boot/shoe scrapers. Coir fiber is able to remain outdoors for extended periods of time without weathering or losing its scraping ability. Scrapers are available in two forms: mats and 3D shapes. Scraper mats are a rectangular mats that are made of natural coir fiber wrapped around a metal frame to add a hard and stable surface for you to effectively scrape your shoes.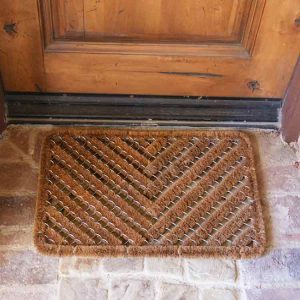 The other form of scrapers come in the form of 3D shapes. These products are called Boot/Shoe Scrapers and they give you the ability to scrape all around your shoes with ease. Boot scrapers are also made with natural coir and provide similar qualities. However, due to their 3D shape, it is easier to scrape all around your shoes than a flat scraper mat.