Door Mats: Rubber and Carpet Front Entrance Mats
Rubber and carpet front entrance mats provide the qualities necessary for creating a safe and non-slip entrance. These two front entrance mats are often used in tandem to prevent excess dirt or debris and moisture from trailing in on shoes. This, in turn, reduces the chances of hazards littering the interior floor. However, these two materials are used in different ways. Rubber front entrance mats are generally placed outdoors while carpet front entrance mats are placed indoors. This is due to the materials' varying durability against outdoor environments. Now, let's get into the details of rubber and carpet front entrance mats.
Rubber Front Entrance Mats
Rubber front entrance mats are placed outdoors because rubber is able to withstand harsh outdoor conditions. Front entrance mats are often made of eco-friendly recycled and reclaimed rubber or synthetic SBR. These materials are designed to resist the damaging effects of harsh UV rays, ozone and abrasive weather conditions. Furthermore, rubber possesses a naturally high coefficient of friction which allows rubber front entrance mats to retain its traction even when moisture is present on its surface. In addition, rubber front entrance mats often come with a textured surface to enhance the mats scraping abilities as well as its traction.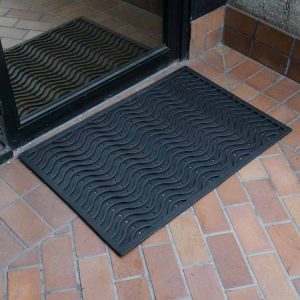 Carpet Front Entrance Mats
Carpet front entrance mats are made with a polypropylene carpet fiber filament surface that effectively absorbs moisture and traps excess dirt or debris. These mats must be placed indoors as they are not outdoor friendly and  precipitation will render the carpet fibers obsolete. When placed indoors, carpet front entrance mats are the second line of defense against hazards such as dirt and moisture from coming indoors and causing slip and fall accidents. The polypropylene fibers can scrape dirt from hard-to-reach grooves of shoes and absorb moisture the rubber mat outdoors did not trap.